There's an unlimited number of ways you can market your website online. Contact form marketing is truly not one of them.
Some are above board (such as paid marketing), some are a little grey hat (maybe doing a few things under the radar), and there are some black hat (shady or just wrong).
Today I want to provide a real-life example of how not to market your business in 2021, or any year for that matter.
Like most online companies, I rely on my contact form as a way to generate leads for my business.
But there are some who believe that contact forms are an open door to market their own product or service.
I get these annoying things all the time.
But today, I decided to actually reply to one and see what happens.
Will he respond back?
Will he realize that doing contact form marketing to market his business online is doing far greater damage to his brand?
Will he realize that there are far better ways to target people who may actually be interested in his offer?
We will find out. If he responds, I'll update this post.
But the reality is that I would not take this company on as a client for any of my marketing or copywriting services. Why? Because they are not legit (as you will see below).
Sure, I have written copy for some interesting things, including a radio commercial that got a TON of buzz in Texas, but I only take on clients with legit businesses and legit offers. That's just the way I roll.
So without further ado…
HOW (NOT) TO MARKET YOUR WEBSITE IN 2021 USING CONTACT FORM MARKETING.
This morning I received a notification that someone filled out the contact form on my website. Here's a screenshot (URL blacked out.)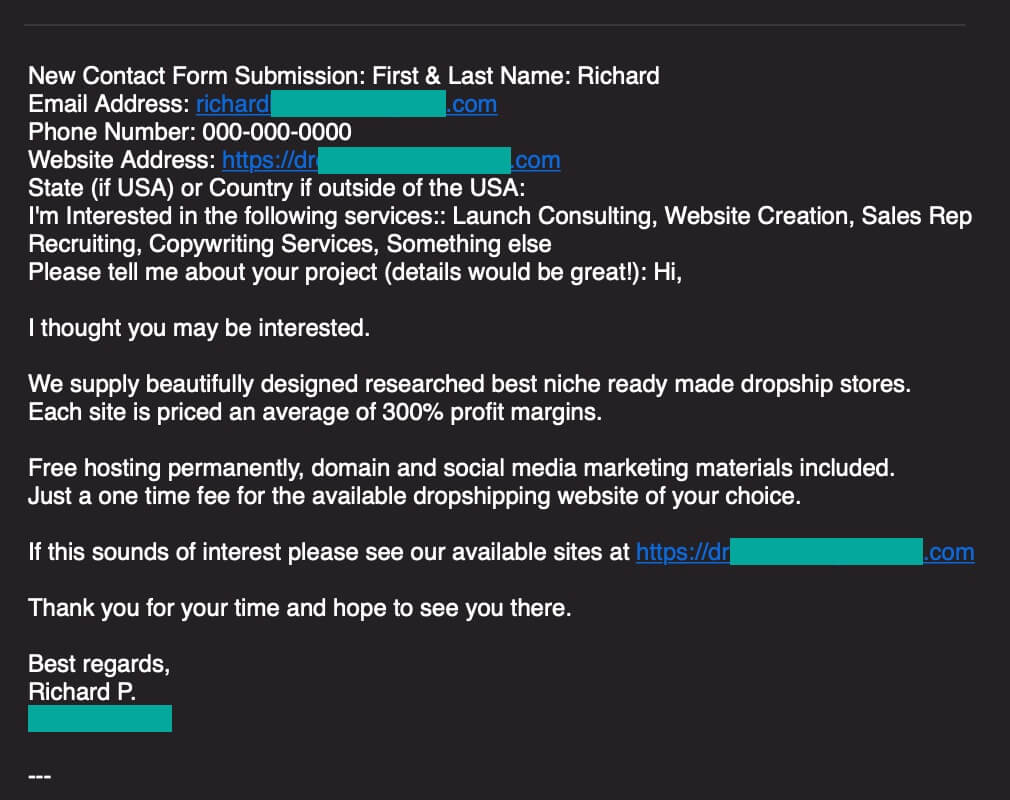 Well, Richard. I do commend you for taking action to market your dropship store. 300% profit margins definately does sound quite amazing.
However, with all due respect, blindly reaching out to me about your offer doesn't sit well with me. This goes into the same category of all those Nigerian emails I receive that I'm a descendant of a Prince and all I need to do is send $10K in order to receive my $15 million dollar inheritance.
Side note, many of those spammers could really benefit from hiring a copywriter to help fix their emails and boost conversions. (Kidding, that is not a market that I would touch.)
So instead of deleting the email, I decided to take a moment to reply, just to see what happens. Here's what I wrote: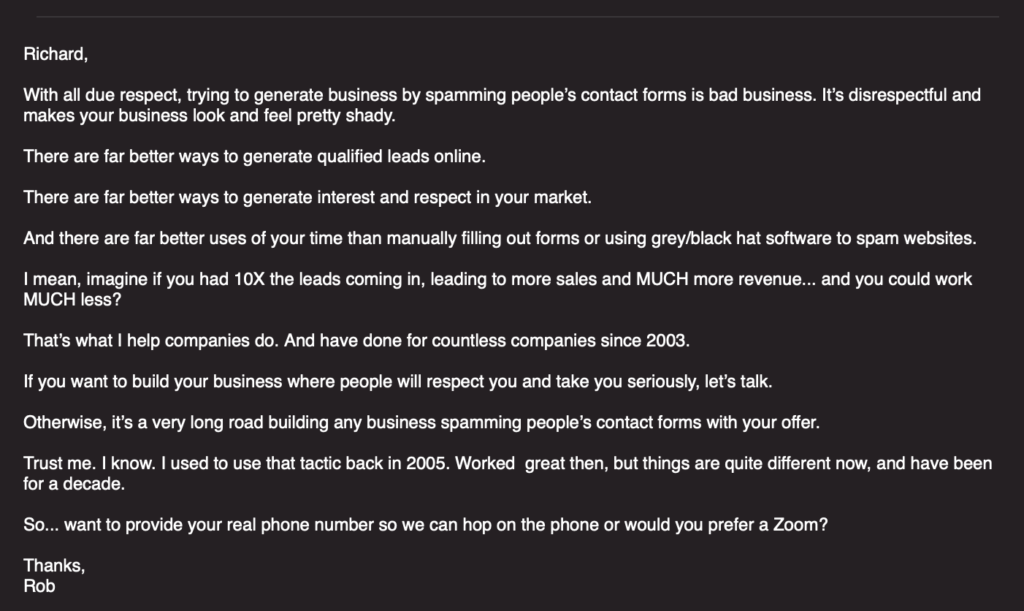 I decided to go a little further down the rabbit hole on this company.
I mean, who is this company and are there people actually jumping on this offer? Surely they are blasting out hundreds, if not thousands of contact forms a day with their amazing 300% profit margins.
I mean, why invest in crypto and continue loading up on DOGE coin waiting for Elon's next Tweet sending DOGE to the moon when you can make 300% profit margins according to Richard?
I did a little research on their domain and found that they are playing the game pretty well, unfortunately.
They have a (fake) Facebook page. They have loaded up all the review sites with (poorly written) reviews about how wonderful and profitable the company is.
But sadly, there are a mix of real people who fell for their offer. For example, one poor guy recently posted this…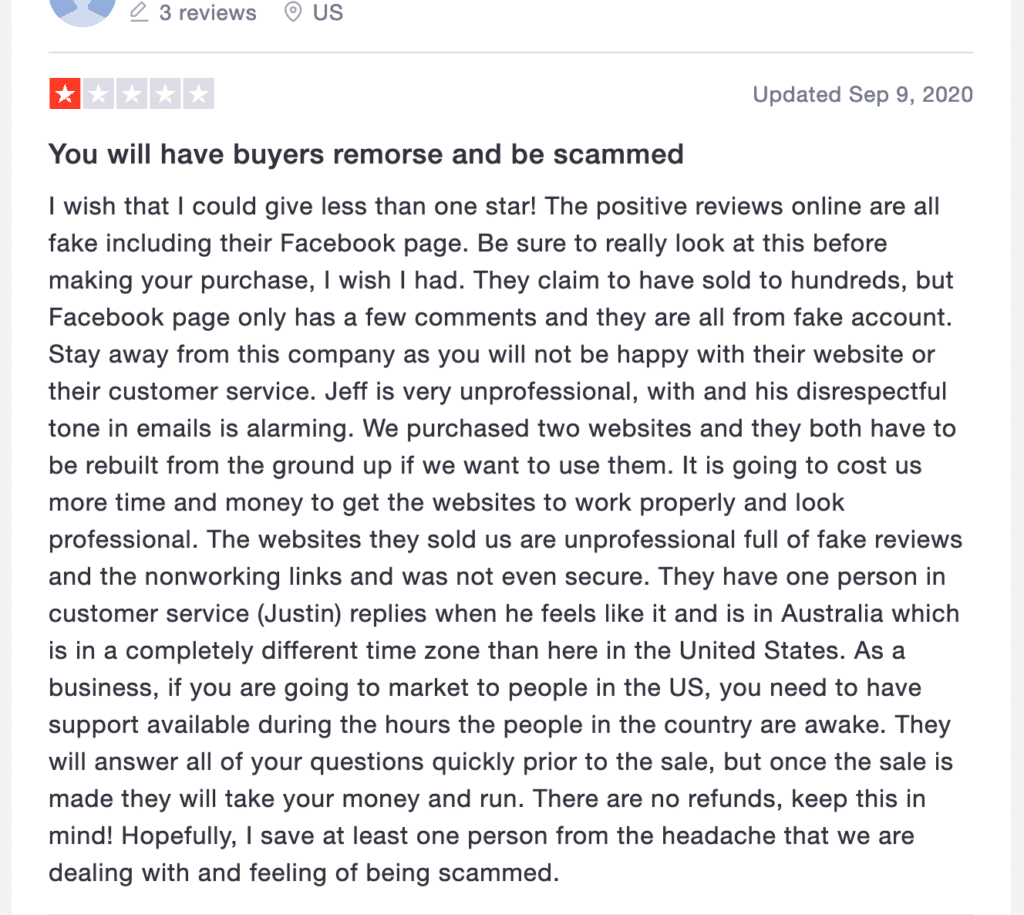 Yes, I know that this is no surprise and I know that this is nothing new.
Junk offers, scams, and just shady marketing has been around since the dawn of online marketing and will only continue, unfortunately.
The sad part is that people still fall for these offers. And as long as people keep falling for them, they will continue to fill your inbox and contact form marketing will continue to be used.
If you offer any products or services online, or you're preparing your company for a prelaunch, stay away from any type of online marketing that will damage your brand, cheapen your offer, or instantly destroy your reputation.
At the end of the day, that's all we really have… our reputation.
It could take a lifetime building it and only one wrong or stupid move to destroy it.
And in the world of online marketing, there is no shortage of slimy, shady, and backdoor marketing tactics you can use to drive traffic to websites – offering legit product or services… or shady ones.
Sure, you could hide behind websites, use fake names, and just blast out shady offers online, but at the end of the day, what value are you putting into the world? (Looking at you, "Richard".)
Even though I keep an eye on the latest greyhat and blackhat tactics some are using (a good source to finding ideas you could take and turn them into legit marketing methods), I choose not to use the back alley marketing tactics to promote my products or services or my clients.
Are there sometimes easier roads to promote something online? Sure. There's plenty of them.
But short-term gains there can and will often lead to long-term headaches. From sites losing rankings all the way to reputations and trust being destroyed.
So if any company offers you contact form marketing as a service (yes, there are companies that offer contact form marketing) to get your products or services in front of more eyeballs, stay far away.
Otherwise, I'll have another subject for a blog post. :^)